Troop 174
Troop Trip to Saratoga NHP, Fort Ticonderoga, and Lake George, NY
May 26-29, 2006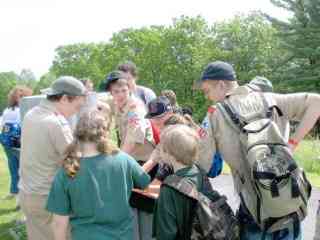 .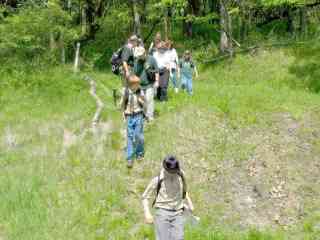 .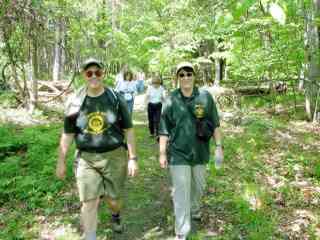 .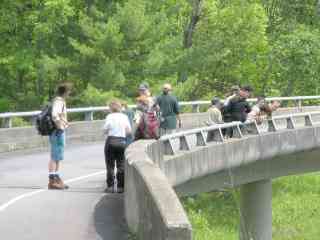 .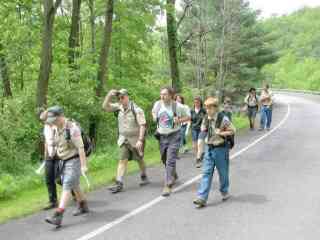 .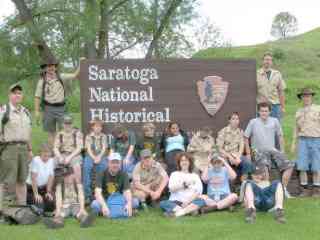 .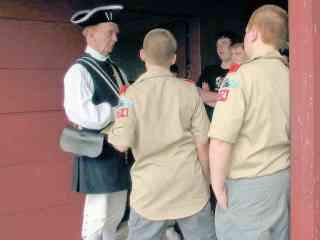 .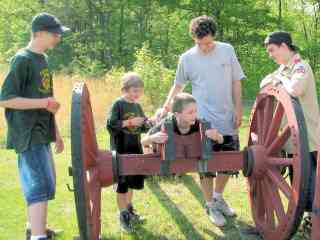 .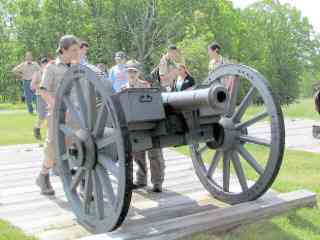 .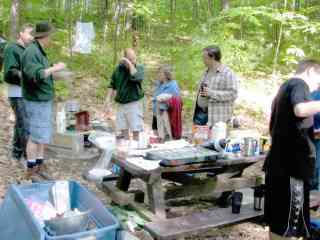 .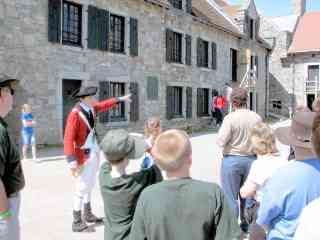 .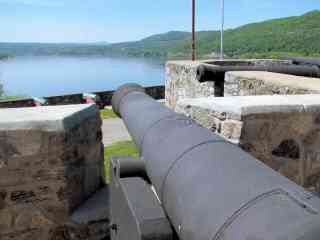 .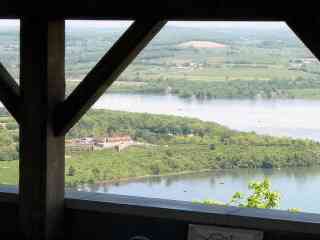 .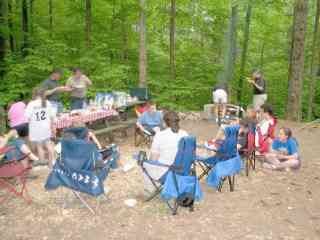 .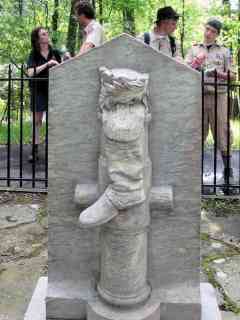 .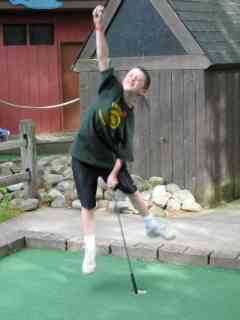 .
We had 22 people in our group and it was a great mix, everyone pitched in one way or another.
It was funny, all of the people sleeping over Friday night arrived at the same time (we all ended up in the reservation line together). There was a little "wild life" issue that night at the camp ground (seems this is the camp ground used for the north eastern version of spring break). The D. and C. families got a "college" education of sorts.
Saturday morning we all left for Saratoga together except for the A.s (they needed a little extra time to get ready). We were then surprised when we got to the park they were there (seems they "found" a short cut). We met up with H.'s and the scouts received their maps and questionnaires (some complete with all the answers, it was a marvelous sight to see the sharing that took place).
After the movie (which was very informative) we hit the trail. The trail was an eight mile trail that mostly followed the Wilkinson trail with a extra cut out known as the Scout Trail and then, for our group, there was a little bush-whacking "short cut" known as the "Jamie are you sure we should go this way". On the trail we stopped for lunch at one of the "spots" (Spot 10) that had a beautiful view of the Hudson and a couple of picnic tables and a garbage can. One of our scouts worked on his advancements by cooking lunch. The trail finished back at the visitor center where (after everyone re-hydrated) a couple of card games broke out among the youths while the adults sat down and stiffened up.
Once we got all the adults back on the feet we took one more loop (this time in the cars) around the park and headed to the Golden Corral for dinner. At the Corral, we got right in and went to eating with a vengeance. The line was pretty long but everyone ate as much as they could (which was about twice as much as they should have).
From there we split up, some of us went to Wall Mart and then into Lake George Village while others went straight to the camp ground. At the camp site, we had a bunch of fires, a game a Frisbee, a few games of Uno, Frisbee surgery (duct tape really can be used for anything).
The next morning we had another meal that couldn't be beat, thanks to the short order cooks: Mr. A. and Mr. D. and the bacon making talents of Ted M.. We had pancakes, eggs with hats, eggs, French toast, and lots of bacon.
Then we were off to Fort Ticonderoga, again we all left together except the A.s and again they were there when we got to the fort. At which point Mr. A. was elected "the one to follow". As soon as we got everyone together and out of the bathroom, the tour started. Our tour guide was a drummer and one of his duties was to do the floggings. In fact there are a couple people from our group that are due. The tour lasted about twenty minutes and then we were let loose to storm the fort. The first destination for all scouts was the armory. After about an hour of exploring the fort there was a musket demonstration.
From the fort we drove up to Mount Defiance to eat the lunches we brought Mt. Defiance overlooks the fort and was used by the British to drive the Americans out of the fort. This was the photo spot of the whole trip with beautiful view of Lake Champlain. Highly recommended.
After lunch we split up again with most of the group heading back down to Lake George Village to play miniature golf. After an exciting 18 holes we headed back to the camp sight for our pot luck dinner, each family made a different dish (and again one of the scouts did his own cooking). There was Steak, Kielbasa, Chili, Tacos, Pasta with Marinara or Italian sausage, hamburgers, hot dogs, baked beans . . . . Again everyone ate as much as they could, amid many conversations about chili, baked beans and farts.
After dinner there was another night of card games, Frisbee (again with Frisbee surgery), fires (lots of fires, this is scouting after all) and s'mores.
The next morning we were surprised by the weather, it was raining. Up until this morning the weather had been perfect (not too hot and not too cold and very dry). So we had to pack up in the rain. It was nice (and more than a little comical) to see everyone helping get everyone packed up.
- Mr. Jamie C.

You should have seen the crew working together, it was so nice. Just when we thought Sunday breakfast couldn't be matched, Sunday dinner was on the table. Best eating (outside of home) I've had.
Rain Monday morning. Luckily, everyone pitched in to help me pack my car. I gave an item or two that I had brought up to other troop members to bring home, and I still couldn't fit everything. How does that happen? Ted M. and Peter H. stayed behind to tie off my roof rack and cargo hitch. We were on the road out by 10:00, just as the sun and blue skies broke through. Perfect weather for shopping in the Lake George outlets. A couple of pairs of shoes later, some ice cream and milkshakes, we hit the road back. It was great fun camping, but good to be home.
- Mr. Bob A.

Photos by Josh D.

---
Boy Scout Troop 174, Yorktown, NY. http://troop174.info