Troop 174
Revised 4/28/04
Boston Troop Trip
Information
Apr. 30 - May 2, 2004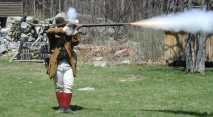 Overview
We plan to hike the "Sons of Liberty Trail" and the "Freedom Trail", and complete the requirements to earn the medals for both trails.

The "Sons of Liberty Trail" is about a 10 mile hike from Lexington to Concord, Massachusetts following the "Battle Road". The trail begins at the Battle Green in Lexington where on April 19, 1775 about 40 Minute Men met British soldiers who were marching from Boston to Concord to confiscate colonial cannons and arrest patriot leaders. This is the site of the "shot heard 'round the world", the first battle of the American Revolutionary War. The trail also traces part of Paul Revere's famous midnight ride to warn local residents the British soldiers were coming, and includes the site of his capture by British soldiers.

The "Freedom Trail" is a 2 1/2 mile (one way) walking trail to sixteen historic sites in downtown Boston. It begins at the Boston Common Visitor's Booth on Tremont Street near the Park Street Station (subway) and ends at the U.S.S. Constitution in Charlestown. The trail is marked by a red line painted on the sidewalk that will lead you from site to site. Depending on how much time one takes, the trail may be finished in from three hours to a full day. If visitors linger and study the many exhibits, a full day can be devoted to the Freedom Trail.

Schedule overview (a detailed schedule is farther below)
Friday
-Arrive at campsite in the evening
Saturday
-Drive to the Lexington/Concord area.
-Hike the "Sons of Liberty Trail" beginning in Lexington
-Eat your brown bag lunch.
-Finish hiking the trail ending in Concord.
-Drive to Bickford's Family Restaurant in Framingham.
-Eat supper at Bickford's Family Restaurant in Framingham.
-Drive to campsite.
Sunday
-Drive to Riverside Station in Newton and park.
-Take the Green Line commuter train from Riverside Station to Park Street Station in downtown Boston.
-Hike the "Freedom Trail" beginning in Boston Common.
-Eat your brown bag lunch.
-Finish hiking the trail, ending at the USS Constitution in Charlestown.
-Take the F4 Ferry from Pier 4 in the Charlestown Navy Yard in Charlestown to Long Wharf in Boston.
-Take the Blue Line subway at Aquarium Station near Long Wharf to Government Center, and then transfer to the Green Line to Riverside Station.
-Drive home.
-Supper on your own.
Lodging
Troop 174 will tent camp on Peabody campsite at the Nobscot Boy Scout Reservation at 1 Nobscot Road, Sudbury, MA.

The Peabody campsite is a 5-minute walk from the parking lot and close to a water well and a latrine.
"At Nobscot, ALL vehicles are permitted in parking lots ONLY. All gear and equipment must be hiked in and out."
There are two lean-tos at the campsite for gear storage.
Cost
Overview

Additional costs for weekend food, souvenirs, transportation, etc. to be determined.

Details

Food

Bring your own food for Saturday and Sunday breakfasts and lunches. Lunches should be quick bag lunches.
Saturday supper at Bickford's Family Restaurant, $15 per person.

Transportation

$2.75 parking at Riverside Station on Sunday
$6.00 (two $3.00 subway fares) on Sunday
$1.50 ferry fare on Sunday

Admission fees

Discount combination ticket to three sites - Old South Meeting House, Old State House, and Paul Revere House. Purchase tickets at either the Old South Meeting House or the Old State House.

$9.50 adults
$3.00 children ages 5-17

Old North Church and King's Chapel

Free. Voluntary donations accepted.

Souvenirs
What to bring - Label everything with your name
Wear

activity uniform while traveling to and from Boston
activity uniform at our camp site
official uniform during day on Saturday and Sunday

Backpack or duffle bag for items listed below
Hot cup, labeled with your name
Mess kit
Bring your own food for Saturday and Sunday breakfasts and lunches. Lunches should be quick bag lunches.
Sleeping bag
Sleeping pad, optional
Pillow, optional
No electronic devices (radios, Gameboys, etc.), except Walkman or radio with headphones.
Personal cleanup kit - toothbrush, toothpaste, comb, small plastic bottle of biodegradable soap, small towel and washcloth, etc.
Rain gear, such as a poncho
Clothes – dress for weather
Extra underwear
Socks
Liner socks
Hiking shorts, optional
Long pants
Well broken in hiking shoes
Well broken in athletic shoes
Flashlight with extra batteries
Warm jacket
Warm clothes to layer
Sunscreen
Hat with brim for shade
Folding chair or stool, optional
Watch
Camera, optional
Travel alarm clock for adults
Adults bring family radios
Money for subway fares, ferry fare, admission fees, souvenirs
Maps and driving directions
Print and bring your own copy of the "Freedom Trail Hike Credential".

Day pack items

Day pack
2 refillable water bottles labeled with your name
Personal first aid kit, including 8 bandaids and moleskin
Extra 2 pairs of socks (outer and liner) to change in the middle of the day
Rain gear, such as poncho
Hat
Pair of athletic shoes, optional
Gallon sized zip lock bag labeled with your name
Pencil or pen
Weekend schedule in zip lock bag
camera, optional
Compass
Map - get at Visitors Center

Label your day pack with:

Your first initial and last name
Boy Scouts Troop 174 Yorktown Heights, NY
telephone number
Rules
No climbing on cannons or monuments
Quiet hours 11pm to 6am
Use the buddy system
Stay with your group
No weapons, so no pocket knife
Good behavior – representing troop and BSA
Nobscot Peabody Campsite

Keep it clean.
Ground fires are allowed.
Clean the campsite Sunday before we leave.
Schedule
Friday, Apr. 30

3:00 pm suggested departure time to drive to the Peabody campsite at the Nobscot Boy Scout Reservation.
Directions from Yorktown Heights to the Nobscot Boy Scout Reservation Sudbury, MA
Rt. 35 E, 8 miles (or take Rt. 6 E.)
I-684 N, 9 miles
I-84 E, 44 miles
I-691 SE, 8 miles (Leaving I-84 for I-691 avoids turns on I-84 short of Hartford)
I-91 N, 18 miles
I-84 E, 43 miles
Mass Turnpike I-90 E, toll, to exit 12 33 miles
MA-9 E Worchester Rd./Turnpike toward Framingham 2.5 miles
Take the ramp toward EDGELL RD./MAIN ST./FRAMINGHAM 0.1 miles
Stay straight to go onto HIGH ST. 0.1 miles
Turn LEFT onto MA-30/MAIN ST. Continue to follow MA-30 0.2 miles
MA-30 becomes EDGELL RD. 3.0 miles

Total Distance: 170 miles
Total Travel Time: 3 hours (plus rest stops)
Detailed directions from the Mass Pike, I-90: Take Mass Pike to exit 12, Route 9 East. Follow Rt. 9 through 3 sets of lights to Framingham State College exit. At the light, take a left onto Edgell Road. Follow Edgell Road for 3.5 miles. Camp entrance is on the left following the Framingham Animal Hospital on the right.
The address of the Framingham Animal Hospital across the street and near the entrance to Nobscot Boy Scout Reservation is:
Framingham Animal Hospital
1415 Edgell Road
Framingham, MA 01701-5015
The town boundary line dividing Framingham and Sudbury goes through the middle of the Nobscot Boy Scout Reservation near the main gate entrance. Please be aware that the name of the northbound road in front of Nobscot Scout Reservation is named "Nobscot Road" (in the Sudbury city limits), and the name of that same road going southbound from Nobscot Scout Reservation is named "Edgell Road" (in the Framingham city limits). This explains why Nobscot is at 1 Nobscot Road in Sudbury and across the street is the Framingham Animal Hospital at 1415 Edgell Road in Framingham.
6:30 pm Suggested arrival time at Nobscot.
On arrival check in with the camp ranger at the main gate.
The first parking lot just inside the main gate is for day parking. The next lot just beyond is for overnight parking. Park in the overnight lot and carry the gear about 0.2 miles to the Peabody campsite. See the Nobscot map above.
Supper on your own
6:30-8pm Set up camp
9:45-10pm Prepare for bed
11pm-6am Quiet hours
Saturday, May 1
6:45am Wake up
6:45-7:45am Eat breakfast and clean your personal mess kits
Hikers pack their day pack
Receive instructions about today
Divide into groups with adult leaders
Put day packs into cars
8:15am Drive 30 minutes down Route 20 (North on Nobscot Road.) to the Lexington Battle Green, 1875 Massachusetts Avenue, Lexington, MA.
Sons of Liberty Trail
See Battle Map and Park Map. Follows part of the Battle Road Trail.
Public restrooms are at the visitor centers.
Lexington

Lexington Visitor Center, open 9am to 5pm.
view diorama of the Battle of Lexington
Lexington Battle Green
Minuteman statue, which represents Col. John Parker commanding the Minute Men, facing the line of the British approach.
Jonathan Harrington was a Minuteman who was mortally wounded at Lexington Green. He crawled across the Green to the doorstep of his home where he died in the arms of his wife.
Buckman Tavern Located on Lexington Common at 1 Bedford Street. This tavern was the headquarters of the Lexington Minutemen. Several dozen minutemen waited here for the British soldiers to arrive in Lexington. The old front door has a bullet hole made by a British musket ball during the battle.
Hancock-Clarke House, home of Rev. John Hancock who is the grandfather of John Hancock, the first signer of the Declaration of Independence. Located 1/4 mile from Buckman Tavern on Hancock Street (optional).
Minute Man Visitor Center, Exit 30B off of Route 128/I-95, Route 2A, Lexington. Open 9am to 5pm. Restrooms.
See the free "The Road to Revolution" 25 minute theatre presentation shown every half hour 9am to 4:30pm.
view the 40 foot battle mural
The Minuteman Boulder. Inscribed on the boulder are Captain Parker's words to his men in 1775: "Stand your ground. Don't fire unless fired upon, but if they mean to have a war let it begin here." An imaginary line drawn from the boulder to the Revolutionary War Monument represents the battle line of the Minutemen in 1775.
The Old Burial Ground.
Hayward's Well, who challenged a British soldier at his well . . . they shot and killed each other.
Site where Paul Revere was captured by British soldiers. At this stretch of Battle Road, the famous "Midnight Ride of Paul Revere" came to an end. While passing through Lexington around midnight, Paul Revere and William Dawes met Dr. Samuel Prescott of Concord, who was riding home after courting Lydia Mulliken. Dr. Prescott agreed to help spread the alarm that "the Regulars were out." The three men ran into a patrol of ten mounted British officers posted here to prevent word of the British march from reaching Concord. Paul Revere was captured. William Dawes escaped back toward Lexington. Dr. Prescott jumped his horse over a stone wall and eluded his pursuers. It was Dr. Prescott who carried the alarm to Concord and beyond. Paul Revere was questioned, held for a while and then released, but the British officers confiscated his horse. Paul Revere walked back to Lexington in time to hear gunfire at dawn on the town common.
Bloody Angle, a bend in the road where many British soldiers were killed or wounded in an ambush.
Meriam's Corner, site of another small skirmish.
Old North Bridge in Concord, where the British were turned back to Boston
Join a park ranger for "Two Revolutions", a 20-minute interpretive program at the Old North Bridge.
North Bridge Visitor Center, 174 Liberty Street, Concord, MA. Open 9am to 5pm.
Free "April Fire", a 12 minute video about the fight at the North Bridge on April 19, 1775.
7:00pm Group dinner reservation for the New Englander buffet at Bickford's Family Restaurant.
Bickford's is 6 miles (14 minutes) away from Nobscot Scout Reservation.
Location: 270 Cochituate Road. in Framingham, MA, Mass Pike (I-90), exit 13, ½ mile on the right.

Yankee pot roast, roasted chicken quarters, pasta marinara.
Garden salad made from fresh greens and tossed with cherry tomatoes.
Roasted red bliss potatoes, garlic mashed potatoes, fresh green beans almondine, homemade butternut squash, rolls.
Desserts: gourmet pies, cakes, and cheesecake.
Coffee, tea, soda.
9:00pm-9:45pm Evening campfire program (tentative)
11pm-6am Quiet hours
Sunday, May 2
6:30am Wake up
6:30-7:30am Eat breakfast and clean your personal mess kits
Make bag lunches.
Hikers pack their day pack
Receive instructions about today
Put day packs into cars
7:30am depart for Freedom Trail
Clean the Nobscot Peabody Campsite before checkout. (time to be determined).
Inspection and checkout from Nobscot Peabody Campsite (time to be determined).
Freedom Trail
Subway to the Freedom Trail.
Massachusetts Bay Transit Authority (MBTA, called "The T") operates the subway, bus, and commuter train system. Inbound is always toward downtown Boston, and Outbound is away from it. In the subway system, Inbound is toward four stations: Park Street, State, Downtown Crossing and Government Center. (Within those four stations, Inbound and Outbound are not used.)
Drive 25 minutes to Riverside Station at 390 Grove Street, Newton and park, $2.75 on Sunday, open 24 hours/day.
Take the Green line to Park Street Station.
Subway fare is $3.00. Children 5 to 11 years old pay half fare. Exact change (no bills) or token is required.
Subway to subway transfers (between the Blue, Orange, Red, Green, and Silver lines) are free.
Freedom Trail
Map.
Public restrooms are at the Old State House, Faneuil Hall, Bunker Hill, and the Navy Yard.
Bag lunch during the Freedom Trail hike.
Boston Common: The oldest public park in the U.S. British troops camped on Boston Common prior to the Revolution and left from here to face colonial resistance at Lexington and Concord on April 18, 1775. Public hangings took place here until 1817, and cattle and sheep grazed the Common until 1830. Free. Make certain you obtain the signature of the receptionist at the Freedom Trail booth on Boston Common on your copy of the Freedom Trail Hike Credential form.
Massachusetts State House: Beacon Street at Park Street. The Massachusetts State House on Beacon Hill has long been one of the city's main landmarks. The cornerstone for the building was laid in 1795 in a ceremony overseen by Governor Samuel Adams and Paul Revere, the Grand Master of the Masons. The building was completed in 1798. The building stands on land once owned by colonial Boston's wealthiest merchant, John Hancock who was also Massachusetts' first elected governor. The dome was originally covered with wooden shingles, and in 1802 was sheathed in copper manufactured by Paul Revere. It is now covered by 23 karat gold. Free tours available. Open Monday-Friday 10am-4pm. CLOSED Sunday.
Old Granary Burial Grounds: Park and Tremont Streets. This 1660 cemetery is the final resting place for a host of historical figures including three signers of the Declaration of Independence (a large pillar marks John Hancock's grave), eight governors, five victims of the Boston Massacre, and the parents of Benjamin Franklin. Along the rear path, a square monument of white marble marks the grave of silversmith, midnight rider, and industrialist Paul Revere. Open daily 9:00am to 5:00pm. Free.
Park Street Church: Park Street and Tremont Street. Built in 1809 on the site of the old town granary where grain was kept before the Revolution. This Evangical Church of "firsts" is the location of the first Sunday school in 1818 and the first prison aid in 1824. On July 4, 1829, William Lloyd Garrison gave his first public anti-slavery speech here and two years later, "My Country 'Tis of Thee" was sung for the first time by the church children's choir. CLOSED except open July and August for historical tours. Free, donations accepted.
King's Chapel: Tremont and School Streets. The first Episcopal church in Boston, it became the first Unitarian church in America after the Revolution. In 1816 a bell for the church, weighing more than one ton, was cast at the Revere Foundry. Paul Revere called it "the sweetest bell we ever made." Today, the bell is rung by hand for all church services and special occasions. The interior of the church is elegant and one of the most beautiful in New England. The pulpit and its sounding board date from 1717 and were once used in the original wood chapel. The King's Chapel Burying Ground is the oldest burying place in Boston proper. The burying ground is the final resting place for many colonists including John Winthrop, the first governor of the Massachusetts Bay Colony; Hezekiah Usher, the colony's first printer; and Mary Chilton who arrived on the Mayflower in 1620. Open daily 9am to 5pm. Free, voluntary donations accepted.
First Public School site and Benjamin Franklin's Statue: School Street. Established in 1635 by Puritan settlers, Boston Latin school was attended by Samuel Adams, John Hancock, Benjamin Franklin, Cotton Mather and other noted historical figures. Franklin's place of birth is just one block away on Milk Street, across from the Old South Meeting House. A portrait statue of Benjamin Franklin is across the street from the First Public School site. This statue was the first portrait statue erected in the United States.
Old Corner Bookstore: Corner of School and Washington Streets. The Bookstore was built in 1712 and was Boston's first apothecary shop. It is one of Boston's oldest surviving structures. Many famous books were published here including The Scarlet Letter, Walden, and the Atlantic Monthly magazine. Writers Nathaniel Hawthorne, Ralph Waldo Emerson, Henry Wadsworth Longfellow, Harriet Beecher Stowe, Oliver Wendell Holmes, and Henry David Thoreau often gathered at the Old Corner Bookstore, as did their English counterparts, including Charles Dickens. Today The Boston Globe Store which was founded by The Boston Globe newspaper occupies the building and specializes in New England and travel books and maps. Open Sunday 12 noon to 5pm. Free.
Old South Meeting House: 310 Washington Street, corner of Milk and Washington Streets. The Old South Meeting House was built in 1729 as a Puritan house of worship and is the second oldest church in Boston. Old South was the largest building in Colonial Boston and often used for gatherings that were too large for Faneuil Hall. One such gathering occurred on March 6, 1775 when patriot leader Dr. Joseph Warren delivered a moving oration in honor of those killed five years earlier in the Boston Massacre. The meeting house was packed so tightly for the event that Warren had to climb in through a window behind the pulpit to make his address. The Old South Meeting House is best known for the site of where the Boston Tea Party began. On December 16, 1773 more than 5,000 outraged colonists gathered at Old South (Faneuil Hall was too small) in a meeting to protest the tax on tea. After many hours of debate, Samuel Adams announced, "This meeting can do nothing more to save the country!" Protestors stormed out of the Old South Meeting House to the waterfront where dressed as Mohawk Indians they dumped three shiploads (342 chests) of tea into Boston harbor. During the siege of Boston, the British gutted it, burned the pews, and used the building as a riding school. Today, the Old South Meeting House is a museum where they recreate the tea party debates. Allow about one hour for the tour. Open daily 9:30am to 5:00pm. Admission fee required - see discount combination ticket information.
Visitor Center (with bathroom).
Old State House: Corner of State and Washington Streets. Built in 1713 as the first seat of the Colonial goverment and the location of the British government in Boston. John Hancock, first governor of Massachusetts, was inaugurated here. In 1766 the Massachusetts Assembly debated the Stamp Act here. The musuem has artifacts including a suit of clothes that belonged to John Hancock and the wool flag with nine red and white stripes that was flown to assemble the Sons of Liberty under Liberty Tree. More history. Allow about one hour for the tour. Open 9:00am to 5pm. Admission fee required - see discount combination ticket information.
Boston Massacre Site: Located in front of the Old State House at the intersection of Devonshire and State Street. The site is marked by a ring of cobblestones and shows where the first bloodshed of the American Revolution took place on March 5, 1770. Tensions between the colonists and British soldiers erupted into violence on March 5, 1770. A minor dispute between a wigmaker's young apprentice and a British sentry turned into a riot. The relief soldiers that came to the aid of the British were met by an angry crowd of colonists who hurled snowballs, rocks, clubs, and insults. The soldiers fired into the crowd and killed five colonists. Samuel Adams and other patriots called the event a "massacre". The victims were buried in a common grave at the Old Granary Burying Ground. Paul Revere's famous engraving of the Massacre, although inaccurate, served as great propaganda for the patriot cause. No admission fee.
Faneuil Hall: Built in 1742 the hall has been a meeting place upstairs and a marketplace downstairs ever since. The fourth floor is now the home of the Ancient and Honorable Artillery Company Museum. Here, the colonists protested "taxation without representation," gathering to speak out against the Stamp Act, Townshend Acts, and the landing of the British troops. High atop Faneuil Hall is a unique grasshopper weather vane built by in 1742. Constructed of copper and gold leaf, with glass doorknobs for eyes, it measures 52 inches long and weighs 38 pounds. It was modeled after a similar weather vane that sat atop the Royal Exchange in London. The Faneuil Hall grasshopper has turned in the breeze above the Boston skyline for over 250 years, and is one of the city's most cherished symbols. National Park Service Rangers present free historical talks every thirty minutes from 9:30am to 4:30pm. Open daily 9am-5pm. No admission fee.
Paul Revere House: 19 North Square in Boston's North End is the Paul Revere House. Built in 1680 it is the oldest building in downtown Boston. Paul Revere bought the house in 1770 and worked as a silversmith at his own shop that was two blocks away. From this house on the evening of April 18, 1775 Paul Revere, a messenger rider and member of the Sons of Liberty, left for his famous midnight ride to Lexington. After 1792 he cast bells, including one for Boston's King's Chapel that still rings today. In 1801, he opened the first copper rolling mill in North America where he produced copper sheeting for the hull of the U.S.S. Constitution and for the dome of the new Massachusetts State House in 1803. Inside the house you can view samples of his silver work, and in the courtyard you will see a 900 pound bronze bell cast at the Revere Foundry in 1804. Allow about one hour for the tour. Open 9:30am-5:15pm. Admission fee required - see discount combination ticket information.
Old North Church: 193 Salem Street. This Episcopal church was built in 1723 as a "House of prayer for all people", and is still an active Episcopal church. It is Boston's oldest church building, and its 191 feet tall steeple is the tallest steeple in Boston. The walls are over 2 1/2 feet thick. The oldest bells in North America are at The Old North Church. They were cast in 1744 and are still rung regularly. Paul Revere was one of the bellringers. These bells are scheduled to ring at 11:55 a.m. on Sunday, May 2, 2004. On the evening of April 18, 1775 from the northwest window of the steeple, sexton Robert Newman held two lanterns (one if by land, and two if by sea) aloft to warn the patriots in Charlestown of the British troops' march to Concord. This signal, the brainchild of Paul Revere, occurred as he was being rowed across the Charles River to begin his Midnight Ride. Visitors to Old North today can view the window near the altar that Robert Newman climbed out after he displayed the lanterns. The inside of the church has changed very little over the past 250 years. The high box pews have plaques bearing the names of their original occupants. Two brass chandeliers with 12 candles on each hang above the central aisle and have illuminated the church for evening services since 1724. Open daily 9am-5pm: Sunday services conducted 9am and 4pm. No admission fee required, but voluntary donations are welcome.
Copp's Hill Burying Ground: Located on the highest piece of land in the North End, Copp's Hill Burying Ground is Boston's second oldest cemetery. It became a burial ground in 1660, and is named after 17th-century shoemaker William Copp, the property's original owner. In colonial Boston, Copp's Hill was much higher, extending as a cliff to the water's edge. Standing atop this cliff, one could view several of the town's shipyards and wharves, and see Charlestown just across the Charles River. From this location in June 1775 British troops bombarded Charlestown during the Battle of Bunker Hill. In 1807 the upper section of Copp's Hill was removed and used as landfill for Mill Pond. When British troops were encamped on Copp's Hill they used the grave markers of patriots they disliked for target practice. Today, their musket ball marks can be clearly seen on the marker of Captain Daniel Malcom, a member of the Sons of Liberty. Malcom, who died in 1769, asked to be buried "in a Stone Grave 10 feet deep" safe from British bullets. This request is noted on his headstone. Notable people buried at Copp's Hill are Robert Newman, the Christ Church sexton who displayed the signal lanterns; Prince Hall, a freed slave and founder of the African Grand Lodge of Massachusetts; Increase and Cotton Mather, Puritan ministers; and Edmund Hartt, builder of the USS Constitution. Open daily 9am to 5pm. Free.
The USS Constitution is the oldest commissioned warship in the world. The Constitution is one of the first ships of the U. S. Navy. It was one of six ships ordered for construction by George Washington to protect America's growing maritime interests. Launched in 1797 from the Boston Navy Yard she sailed against the Barbary pirates and fought the British in the War of 1812. The ship's greatest glory came during the War of 1812 when she defeated four British frigates and earned the nickname "Old Ironsides" because cannon balls glanced off her thick live oak hull. Live oak is five times stronger than white oak, and made the hull of the ship incredibly strong. The USS Constitution was in forty battles and was never beaten. The ship will be open from 10:00 a.m. to 3:50 p.m. Guided tours are available every half-hour beginning at 10:30, with the last tour beginning at 3:30. Each half-hour tour is led by one of the ship's active-duty Navy crew members, and is designed to bring visitors face-to-face with the ship's storied history, her construction and the men and women who sailed her from historic battles to today. A new speed line option has been implemented to give visitors the option of bypassing the tour line and exploring the top deck of the ship only. The speed line is designed to get visitors onboard the ship within ten minutes, and provides for photo opportunities and interaction with the ship's crew. Visitors who opt for the speed line will not be able to take part in the guided tour without rejoining the tour line for the next scheduled tour. A streamlined new security policy, designed to get visitors through screening more quickly, includes that knives must be under 2 1/2 inches, or shall be confiscated. The ship's entire security policy, as well as complete information regarding touring hours and events, can be found on its official web site, www.oldironsides.com No admission fee.
USS Constitution Museum. Open daily 9:00 a.m. to 6:00 p.m. No admission fee.
Everyone is required to go through a security check before boarding the ship. Allow at least 30 minutes for this. A list of banned materials is in the Visitor information.
Make certain you obtain the signature of the Officer on duty at the USS Constitution on your copy of the Freedom Trail Hike Credential form.
Bunker Hill Monument: Probably the most confusing thing about the Battle of Bunker Hill is that it was fought on Breed's Hill. Bunker Hill was a larger, more dominant hill in Charlestown, but the Americans decided to fortify Breed's Hill instead. The Bunker Hill monument stands atop Breed's Hill. The battle was fought here on June 17, 1775, about a month after Lexington and Concord. Control of the high ground near the harbor was important to the British occupation of Boston. When colonial forces chose to fortify Charlestown, they bypassed the more dominant Bunker Hill and dug in on Breed's Hill which was lower and closer to the water. "Don't fire until you see the whites of their eyes" is the legendary order attributed to Colonel William Prescott to make sure that each shot would count. The poorly trained and ill prepared colonial forces repelled two major assaults by the British Army before retreating. Almost half of the British soldiers were either killed or injured. Although the colonists lost the battle, their bravery and strong showing against the British encouraged them to fight on. Patriot leader Dr. Joseph Warren was killed during the third assault. Visitors may climb the monument's 294 steps (no elevator) for a view of Boston and the harbor. Open for climbing daily 9am to 4:30pm. Exhibit open daily 9am to 5pm. Admission is free.
Boston Harbor Ferry and subway.
Ride back on the "F4" ferry from the Charlestown Navy Yard (Pier 4 near the USS Constitution) in Charlestown to Long Wharf in Boston.

One way ferry ticket costs $1.50. Children 5 to 11 years old costs $0.75.

Then take the subway (map) back to Riverside Station:

from the Blue Line Aquarium Station at Long Wharf, take the Blue Line to Government Center and then transfer to the Green Line to Riverside Station.
Leave from the Riverside Station to drive home. (time to be decided)
Supper on your own.
Monday, May 3
Set up tent to dry and clean it
Clean troop cooking gear
7:30pm Return clean, dry tent and troop cooking gear to Quartermaster at Troop meeting
Menu
Trail food - Bring your own from home
The troop will have stoves, coffee, tea, and half-and-half.
Friday Supper
Saturday Breakfast
Saturday Lunch
Saturday Supper
Bickford's Family Restaurant in Framingham
Sunday Breakfast
Sunday Lunch
Sunday Supper
---
Boy Scout Troop 174, Yorktown, NY. http://troop174.info